Event Detail
This event has already taken place! Please make sure you are in the correct year.
×
Back to Events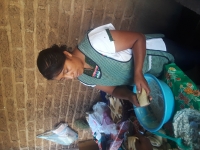 Food/Comida :: Cooking/Cocina also Food/Comida :: Food/Comida
Make tortillas and salsa.. / Hacer las tortillas y la salsa..
11:00 AM
Yatareni
Description:

Learn to make tortillas and salsa from scratch! / ¡Aprende a hacer tortillas y salsa desde cero!
Offered in English and/or Spanish depending on the participants / Se oferta en Inglés o/y Español dependiente de los participantes.
Come spend the day with us in the beautiful campo of San Agustín Yatareni as we learn to make tortillas and salsa completely from scratch. This process, called "nixtamalización", is just one of the ancestral culinary treasures that we tend to replace with mechanized processes in the bustle of the restaurant scene around the world. But guess what? It´s not the same.
If you´ve tasted a tortilla made from corn ground via mortar and pestle, mixed by hand, patted with love and cooked to perfection on a comal, you know that the final product is nothing like the machine-made versión.
Doña Juana, who has impressed all of our guests with her delectable tamales and memorable salsas, is teaming up with Tlayudona to offer this experience to learn the art behind Oaxaca´s gastronomic pillar: the tortilla.
The Logistics: An in-depth exploration of the tortilla making process, from start to finish. You'll get a chance to grind the corn by hand, and we'll also take a short walk to a local mill to grind some corn there, so you get a feel for both processes.
You'll prepare your own tortillas by hand, and then will get the chance to convert them into delicious quesadillas on the comal.
Doña Juana will teach us the tricks behind her delicious homemade salsas, which we´ll make to accompany our quesadillas.
The entire experience will culminate in an unforgettable lunch that we´ve all had a hand in preparing.
We'll provide water, "agua de sabor", and typical snacks throughout the experience.
Time Frame:
Approximately 4-5 hours. From 11 a.m. – 3:30 p.m.
Where:
In the beautiful campo of Yatareni, under open skies, on the same land where the "milpa" (corn, beans, and squash) is grown to be converted into tortillas and other regional foods.*
*Upon reserving this experience, we will send you explicit instructions on how to get there via your own transportation, or you can reserve round-trip air-conditioned transportation leaving from Tlayudona or another central location for 2-4 people for an additional 400 MXN.
Cost: 950 MXN per person. Reserve 2 or more spots and receive a discounted rate of 900 MXN per person. Also, you can pay for your experience in Tlayudona and receive the same discounted rate of 900 MXN per person.
Other information:
This experience takes place in the countryside and Doña Juana and her family are opening their home to us. There are children and animals on-site, so guests who are not fond of one or the other are encouraged to reserve an alternate experience. Bathroom facilities are available, though rustic. This experience takes us to the heart of authentic country life in Oaxaca.
…………………………………………………………………………………………………………
¡Aprende a hacer tortillas y salsa desde cero!
Ven y pasa un día con nosotros en el hermoso campo de San Agustín Yatareni para aprender a hacer tortillas y salsa completamente desde cero. Este proceso, llamado nixtamalización es uno de los tesoros de la culinaria ancestral que ha ido siendo remplazado con procesos mecánicos en los procesos de restaurantes y ajetreo diario. Pero, ¿qué creen? No es lo mismo.
Si has probado una tortilla hecha desde el grano de maíz y con metate, molida a mano, aplastada a mano con amor y cocinada a la perfección en un comal, sabrás que el producto final no tiene nada que ver con la versión hecha en máquinas y con harinas.
Doña Juana quien ha impresionado a nuestros invitados con sus deliciosos tamales y memorables salsas estará trabajando en equipo con Tlayudona para ofrecer esta experiencia para aprender el arte detrás del pilar gastronómico de Oaxaca: La tortilla.
Logística
Qué:
Exploración profunda del proceso de la elaboración de tortillas y nixtamalización, desde los granos de maíz hasta las tortillas salidas del comal.
Tendremos la oportunidad de moler los granos de maíz en metate. También caminaremos al molino local para moler un poco de maíz ahí, así podremos experimentar ambos procesos.
Prepararemos nuestras propias tortillas a mano, para después usarlas para hacer deliciosas quesadillas en el comal.
Doña Juana nos enseñará los secretos detrás de sus deliciosas salsas hechas en casa, mismas que usaremos para acompañar nuestras quesadillas.
La experiencia culminará con un inolvidable almuerzo donde comeremos lo que todxs habremos preparado. Proporcionaremos aguas de frutas y botanas típicas durante el día.
Duración:
Aproximadamente 5 horas de 11am a 4pm
Dónde:
En el bonito campo de Yatareni, con cielos abiertos, en la misma tierra donde crece la milpa (maíz, frijoles y calabacitas) para ser convertida en tortillas y otras comidas regionales.*
*Una vez hecha tu reservación, te mandaremos instrucciones detalladas de como llegar al lugar por tu cuenta o bien, puedes reservar tu transporte de ida y vuelta con nosotrxs (incluye aire acondicionado) mismo que partirá desde Tlayudona u otra ubicación céntrica con cupo para 2-4 personas por un costo adicional de 400 pesos mexicanos.
Costo:
950 pesos mexicanos por persona
Reserva 2 o más lugares y recibe un precio de 900 pesos cada uno. También puedes pagar tu experiencia en Tlayudona en efectivo y recibir el mismo precio de 900 pesos.
Otros:
Esta experiencia se llevará a cabo en el campo y Doña Juana y su familia abrirán sus casas para nosotrxs. Habrá niñxs y animales en el lugar, entonces, si no te sientes a gusto alrededor de infantes y/o animales, te recomendamos alguna de nuestras otras experiencias. Baños simples disponibles. Esta experiencia nos llevará al corazón de la auténtica vida de campo en Oaxaca.
Age Group: All Ages

Address:
100 Hidalgo, Barrio Jalatlaco Oaxaca de Juarez, Oaxaca 68080
Get Directions
Phone: 9512852664