Event Detail
This event has already taken place! Please make sure you are in the correct year.
×
Back to Events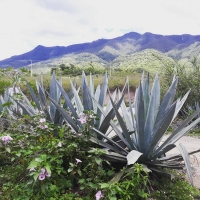 Food/Comida :: Mezcal also Learn/Aprender :: Tour/Excursion
Mezcal Immersion
8:45 AM
Tlayudona
Description:

Immerse Yourself in the World of Mezcal for a Day / Immerse Yourself in the World of Mezcal for a Day
Offered in English and/or Spanish, depending on the participants / Se oferta en Inglés y/o Español dependiendo de los participantes.
This experience continues with our "Women in Mezcal" host, Sosima, and takes you all the way to Sola de Vega for a day. We´ll take off from Tlayudona and embark on a beautiful adventure into the countryside. We´ll stop on our way to grab some brunch, and we´ll even take some Oaxacan coffee with us for the road.
You´ll know we've reached our destination when the paved roads start to give way to dirt paths and we begin to see more donkeys and bulls than cars. There we'll spend our morning in an artisanal palenque nestled amongst fields of agaves and other regional plants.
The road will be peppered with signs that Day of the Dead (Día de los muertos) is approaching. In the villages you´ll feel the spirit of this remarkable time of year as well. Mezcal plays a fundamental role in this holiday.
Once at the palenque, you´ll learn about the entire mezcal-production process, from the plant to the bottle. Depending on your energy levels, you´ll be able to go out into the field and help harvest an agave plant and see all of the work that this entails. You´ll be walked through the various steps of the distillation process, all of which happen on site.
For lunch we´ll head down to Sola de Vega´s village center, where Doña Verónica will prepare us a delicious lunch typical of the region, with an appetizer, a main course, and a refreshing "agua de sabor". (Talk to us about vegetarian options or any other specific food-related requirements. Doña Vero is happy to accommodate them with advanced notice.)
Her restaurant is located in one of the pueblo´s original colonial houses and retains its charm and history.
After lunch, we´ll head back up the hill to the palenque to learn some more about mezcal. Our host, Sósima, comes from several generations of mezcal-producers and is a prominent figure in the local scene, with a wealth of information and an enlightening perspective regarding gender, community, and other dynamic layers of what lies beneath the surface of mezcal production.
The experience will culminate in a mezcal tasting, where the cooperative that Sósima belongs to will provide us with 3 mezcal varieties to try. We´ll sample mezcal distilled from different types of agaves, and different process of distillation. Don´t be surprised if you start drawing connections between the agave varieties you spotted earlier in the day and the nuanced mezcal flavors they create during the distillation process.
The Logistics
Where:
Meet-up at Tlayudona, #100 Hidalgo, Barrio Jalatlaco. We will travel to Sola de Vega in an air-conditioned vehicle (2.5 hours). Experience will end in Oaxaca Centro in the evening.
Time Frame: Full-Day
We will arrange to leave at 9 a.m. from Tlayudona, and will return in the evening, at approximately 7:30 p.m. (*Due to traffic and other unknown factors, we do not have a precise return time.) Please be at Tlayudona by 8:45 a.m. We´ll have our doors open from 8:30 a.m. and the coffee pot on.
Experience includes:
Transportation to and from Sola de Vega in an air-conditioned vehicle
Breakfast/Brunch: Regional memelitas, coffee, water.
A tour of the agave fields and the palenque in Sola de Vega
Homemade lunch, typical of the region, made by Doña Veronica
An in-depth explanation of the processes involved in mezcal production, from plant to bottle
Mezcal samples on-site at the Palenque
A discussion of emerging trends in the mezcal industry, the local and global mezcal marketplace, etc.
A panoramic mezcal tasting of 3 varieties of mezcal
This experience will be given in Spanish and can be translated into English when necessary. Our host is Sósima, Maestra Mezcalera, and our translator is Jennifer, M.A. in sociology.
Cost: 1,600 MXN per person. Reserve two or more spots online and pay only 1,550 MXN. Pay in person in Tlayudona for an additional discount, and pay 1,500 per person.
Minimum number of participants required to schedule this experience: 8
Are you interested in mezcal but prefer to stay in Oaxaca´s city center? Check out our Women in Mezcal experience for a less-intensive dive into the local mezcal scene, or contact us to organize something that meets the specific needs of your group.
Esta experiencia continúa con nuestra anfitriona de "Women in Mezcal", Sosima, y ??te lleva hasta Sola de Vega por un día. Saldremos de Tlayudona y nos embarcaremos en una hermosa aventura en el campo. Nos detendremos en el camino para tomar un brunch, e incluso tomaremos un poco de café oaxaqueño para el camino.
Sabrá que hemos llegado a nuestro destino cuando los caminos pavimentados comiencen a dar paso a caminos de tierra y comenzamos a ver más burros y toros que coches. Allí pasaremos nuestra mañana en un palenque artesanal ubicado entre campos de agaves y otras plantas regionales.
El camino estará salpicado de señales de que se acerca el Día de los Muertos. En los pueblos sentirás también el espíritu de esta extraordinaria época del año. El mezcal juega un papel fundamental en esta festividad.
Una vez en el palenque, aprenderá todo el proceso de producción de mezcal, desde la planta hasta la botella. Dependiendo de sus niveles de energía, podrá salir al campo y ayudar a cosechar una planta de agave y ver todo el trabajo que esto conlleva. Recorrerán los distintos pasos del proceso de destilación, todos los cuales sucederán en el sitio.
Para el almuerzo, nos dirigiremos al centro de la localidad de Sola de Vega, donde Doña Verónica nos preparará un delicioso almuerzo típico de la región, con un aperitivo, un plato principal y un refrescante "agua de sabor". (Hable con nosotros acerca de las opciones vegetarianas o cualquier otro requisito específico relacionado con los alimentos. Doña Vero se complace en darles un aviso con anticipación).
Su restaurante está ubicado en una de las casas coloniales originales del pueblo y conserva su encanto e historia.
Después del almuerzo, nos dirigiremos de vuelta a la colina hacia el palenque para aprender un poco más sobre el mezcal. Nuestra anfitriona, Sósima, proviene de varias generaciones de productores de mezcal y es una figura prominente en la escena local, con una gran cantidad de información y una perspectiva iluminadora con respecto al género, la comunidad y otras capas dinámicas de lo que se encuentra debajo de la superficie de la producción de mezcal. .
La experiencia culminará en una degustación de mezcal, donde la cooperativa a la que pertenece Sósima nos proporcionará 3 variedades de mezcal para probar. Tomaremos muestras del mezcal destilado de diferentes tipos de agaves y diferentes procesos de destilación. No se sorprenda si comienza a dibujar conexiones entre las variedades de agave que vio antes en el día y los sabores de mezcal matizados que crean durante el proceso de destilación.
La logística
Dónde:
Encuentro en Tlayudona, # 100 Hidalgo, Barrio Jalatlaco. Viajaremos a Sola de Vega en un vehículo con aire acondicionado (2.5 horas). La experiencia terminará en Oaxaca Centro por la noche.
Marco de tiempo: día completo
Haremos los arreglos para salir a las 9 a.m. desde Tlayudona, y regresaremos por la tarde, aproximadamente a las 7:30 p.m. (* Debido al tráfico y otros factores desconocidos, no tenemos un tiempo de retorno preciso). Por favor, esté en Tlayudona a las 8:45 a.m. Tendremos las puertas abiertas desde las 8:30 a.m. y la cafetera.
La experiencia incluye:
Transporte desde y hacia Sola de Vega en un vehículo con aire acondicionado.
Desayuno / Brunch: Memelitas regionales, café, agua.
Un recorrido por los campos de agave y el palenque en Sola de Vega.
Almuerzo casero, típico de la región, elaborado por Doña Veronica.
Una explicación detallada de los procesos involucrados en la producción de mezcal, desde la planta hasta la botella.
Mezcal muestras en el sitio en el Palenque
Una discusión de las tendencias emergentes en la industria del mezcal, el mercado local y global del mezcal, etc.
Una degustación panorámica de mezcal de 3 variedades de mezcal.
Esta experiencia se dará en español y se puede traducir al inglés cuando sea necesario. Nuestra anfitriona es Sósima, Maestra Mezcalera, y nuestra traductora es Jennifer, M.A. en sociología.
Costo: 1,600 MXN por persona. Reserve dos o más lugares en línea y pague solo 1,550 MXN. Pague en persona en Tlayudona por un descuento adicional y pague 1,500 por persona.
Número mínimo de participantes requeridos para programar esta experiencia: 8
¿Le interesa el mezcal pero prefiere quedarse en el centro de la ciudad de Oaxaca? Visite nuestra experiencia de Mujeres en Mezcal para una inmersión menos intensiva en la escena del mezcal local, o contáctenos para organizar algo que satisfaga las necesidades específicas de su grupo.
Age Group: Adult

Venue:
Tlayudona
Visit Website
Visit Venue Page
Address:
100 Hidalgo, Barrio Jalatlaco Oaxaca de Juarez, Oaxaca, Mexico 68080
Get Directions
Phone: 951 285 2664