Event Detail
This event has already taken place! Please make sure you are in the correct year.
×
Back to Events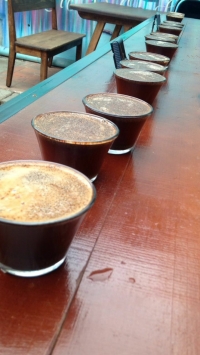 Food/Comida :: Coffee/Café also Food/Comida :: Beverages/Bebidas
Yes, Coffee is a Fruit:A Closer Look at Oaxacan Coffee
10:00 AM
Cafebre
Description:

If you're anything like us, you've spent a lot of cumulative time downing your morning cup of coffee, appreciating the aroma that escapes when you open the bag of beans, and reaping the benefits of its presence in your daily routine…. But have you thought about where your coffee comes from and all the work that its journey from the plant to your cup implies?
At Cafebre, the coffee-talk never ceases, and their dedicated team claims to bleed coffee when cut. For us at Tlayudona, Cafebre´s bohemian-chic centro location is the perfect place to get our coffee on without having to go very far. This specialty coffee shop is fully-invested in honoring the gruelling work of local producers, and they pour their heart and soul into cultivating not only the coffee fruit, but the human relationships involved in the process. You can tell that its a fellow woman-owned business, where the beauty is in the details.
In this particular experience, those details include the intimate knowledge of where your coffee comes from and how it got here: the producers; the regions and altitudes; the processes of cultivation, fermentation, drying; etc. You'll get to know a bit about what it's like to be immersed in the coffee scene in a country of origin, what makes coffee good, arguable, or just plain burnt. You'll taste coffee from different regions of the state in a responsible way, knowing that the commitment to fair and respectable working conditions and prices has been honored throughout the entire chain of production right into the cup in your hand.
This is an informal experience rather than a more "official" cupping, brought to you by people with a lot of knowledge about local specialty coffee and a lot of heart invested in opening up this burgeoning industry to new and/or less-experienced clients. We will delve a bit into flavors and profiles, and the span of nuanced tastes that are ideally found in a specialty roast. This is a beginner's experience though, so while we hope that you share our love of coffee, we do not expect you to arrive with any previous knowledge or experience with its processes.
This course includes:
-An introduction to coffee and the local coffee scene within its Oaxacan context
-A chance to differentiate between the good, the bad*, and the burnt. (*Although we understand that everyone's preferences are different, and the subjectivity of the matter is part of what makes it so fascinating.)
-A brief understanding of different roasts and the properties of an ideal specialty roast
-A tasting of coffees from various regions in Oaxaca and a complimentary caffeine buzz
-The opportunity to see Cafebre's team roast some specialty beans on-site
-A personalized Q&A session
-A 10% discount coupon for any of our more in-depth/intermediate coffee experiences hosted by Cafebre
Cost: 480 MXN IVA
*Visit us at Tlayudona (Mon-Fri 9:30 a.m. – 1:30 p.m.) in Jalatlaco and reserve two or more spots for this experience and receive a 10% discount. We are excited to share our new office/workshop space with you!
You can also reserve your spot directly at Cafebre if you happen to already frequent the spot!
This course will be given in Spanish and/or English depending on its participants.
Unfortunately children are not permitted to participate, since the operation of the roaster presents obvious risks to their safety. (Check out the upcoming chocolate experience on our calendar if you have children ages 8 or arrange your personalized family-friendly experience with Tlayudona for groups of all ages.)
This course is designed to take approximately 2-2.5 hours, although sometimes when we get talking about coffee, we talk a lot.
Age Group: Adult

Address:
108 M. Bravo Oaxaca de Juarez, Oaxaca, Mexico 68000
Get Directions
Phone: N/A