Event Detail
This event has already taken place! Please make sure you are in the correct year.
×
Back to Events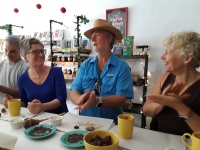 Food/Comida :: Chocolate also Learn/Aprender :: Workshop/Taller
Oaxacan Chocolate.. / Chocolate Oaxaqueno..
11:30 AM
Rito
Description:

Oaxacan Chocolate: Make it, Taste it, Fall in love / Chocolate oaxaqueño: Hazlo, Pruébalo, Enamórate
Offered in Spanish and translated into English depending on the participants/Se ofrece en español y se traduce al inglés según los participantes.
Our Oaxacan chocolate host, Flor, is opening the doors to her family's small chocolatiering business and to generations of expertise in the industry with this scrumptious experience with Oaxacan chocolate. We invite you to step inside! This experience has been one of our most popular and widely-appreciated amongst locals and visitors alike!
This experience includes a brief introduction to the cacao plant and a run-through of the notable roles it has played throughout pre-hispanic, colonial, and modern-day history. We´ll also delve into the significance of this delicious drink during modern day celebrations.
We'll learn a bit about multiple varieties and the differences in appearance and flavour amongst Oaxacan chocolate, and then delve into the journey from plant to delectable treat. Flor will explain how her family creates artisan chocolate in their local factory, and then we will duplicate the process by hand in their recently-opened storefront location.
We'll shape our own artisan chocolate to take home, where we can later prepare an amazing cup of hot chocolate unique to Oaxaca and true to its roots in each step of its production. When it´s cool, you´ll be able to wrap it up in a special package to gift to yourself or someone you love!
But have no fear—we wouldn't expect you to wait until you get home to eat some chocolate! During Flor´s presentation, you´ll get to taste the various ways that chocolate has been prepared throughout Mexico´s rich history. And while our handmade chocolate tablets cool, we'll take advantage of the time by tasting El Rito's most popular varieties: bittersweet milk-chocolate, semi-sweet, chocolate with nuts, and vanilla-flavored chocolate. My mouth is watering just thinking about it.
Flor's family founded "El Rito", a local business dedicated to Oaxaca's tradition of manufacturing fine-quality drinking chocolate with local ingredients. They share Tlayudona's commitment to fair business practice and valuing local producers, workers, and processes in each step of their operations. Their base ingredients are purchased locally and processed in a small plant on the outskirts of Oaxaca, so their ecological footprint is naturally quite low. Characteristic of our generation, Flor is taking innovative steps to move forward creatively within the world of artisan chocolate so that her family´s business will remain a player in the local scene. Come check it out, learn some things, and get your chocolate on!
Course includes:
An introduction to the world of artisan chocolate, contextualized in Oaxaca de Juárez
A brief discussion of the history of the cacao plant and its instrumental role in various time periods
An explanation of the importance of drinking chocolate in Oaxaca
The opportunity to make your own chocolates
Tasting portions of several types of chocolate drinks
Tastes of at least four popular chocolate varieties made by El Rito and Reina Negra Chocolate
Approximately 150g of chocolate to take home in a special package (!)
Cost: 780 MXN
Come visit us at Tlayudona (100 Hidalgo, Barrio Jalatlaco) and pay for 2 or more spots upfront in cash to receive a 10% discount.
Children age 10 are welcome to participate with their parents. (If you have smaller children and would like to organize your own experience for your group/family, contact Tlayudona.)
This experience is offered in Spanish and will be translated into English if/when necessary. Send us a message using our contact form to inquire about additional language translations.
Reservation required, due to the confines of the space. Minimum 4 participants and maximum 6 participants, so reserve your spot with anticipation
¡Ven a echarle un vistazo, aprende algo nuevo y llévate tu chocolate a casa!
El curso incluye:
Una introducción al chocolate artesanal, dentro del contexto oaxaqueño.
Una breve discusión sobre la historia de la planta de cacao y su valor histórico en distintos periodos.
Una plática sobre el significado del chocolate en Oaxaca
La oportunidad de preparar tus propias barras de chocolate bajo la antenta supervisión de Flor
Pruebas de varios tipos de chocolate para beber
Catación de por lo menos cuatro distintas variedades de chocolate que "El Rito" / Reina Chocolate ha preparado para ti.
Aproximadamente 150g de chocolate para que te lleves a casa en una cajita especial (!)
Costo: $780 MXN. Reservación obligatoria, debe al tamaño del sitio. Mínimo 4 participantes, y máximo 6 participantes, entonces aparta tu lugar con anticipación.
Visítanos en Tlayudona (Hidalgo 100, Barrio Jalatlaco) y paga por adelantado en efectivo para 2 personas o más para recibir un 10% de descuento.
Niñxs de más de 10 años son bienvenidos para participar juntxs con sus madres/padres. (Si tienes un grupo/familia con niñxs más chiquitos y quieres agendar tu propia experiencia con un mínimo de 4 personas, contáctanos aquí.)
Esta experiencia se ofrece en español y será traducido al inglés cuando/si es necesario. Mándanos un mensaje usando nuestro enlace de contacto para informarte sobre nuestras opciones de traducción.
Age Group: Teen to Adult

Address:
708 Porfirio D?az Oaxaca de Juarez, Oaxaca 68000
Get Directions
Phone: 9512852664