Event Detail
This event has already taken place! Please make sure you are in the correct year.
×
Back to Events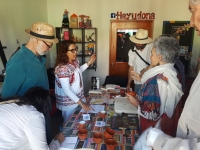 Learn/Aprender :: Tour/Excursion also Art/Artesania :: Restoration/Restauracion
Hidden Gems Architectural Stroll/Paseo arquitectónico de gemas ocultas
8:30 AM
Tlayudona
Description:

Hidden Gems of Oaxaca Architectural Stroll
This event is the first in our "Architectural Stroll" series, led by the architect and restoration specialist Flor Cantón. We´ll be discovering the footprints left by Oaxaca´s fascinating history as we take a walk from the beautiful cobblestone streets of Jalatlaco to the city´s center. This tour delves into an exploration of often-overlooked or seemingly "hidden" gems throughout the two neighborhoods.
Do you know the history of how Jalatlaco evolved from one of Oaxaca´s least desirable neighborhoods to the favored zone it is today? Do you know which craft store in the center holds an emblematic painting done by the first Dominican priests? How about which common store close to the zocalo was home to the city´s first school for girls? We´ll delve into all of this and much more on this walk, and save the most renowned architectural marvels (Santo Domingo, etc) for another day.*
Flor Cantón
Flor is a talented architect and restoration specialist in Oaxaca City, and has a penchant for remembering fascinating recondite historical details. Her passion for history and architecture is omnipresent, and she´ll guide us in seeing the cultural patrimony that has been woven and constructed throughout Oaxaca with new eyes.
Our Route
We´ll start off at Tlayudona, where Flor will present us with some historical/architectural background pertinent to the tour. Then we´ll head toward the center, where we´ll traverse some of Oaxaca´s popular downtown streets and buildings, only we´ll be reading between the lines. We´ll identify some of the original houses from the colonization-era of Oaxaca,
as well as the first schools, military barracks, and homes of the first religious congregations. We´ll finish up in the "Pañuelito" on the side of Santo Domingo.
Logistics
Time Frame:
2.5-3 hours (This will depend on traffic, questions asked, group dynamics, and a number of unpredictable factors)
Language:
Flor will host this experience in Spanish, and it will be translated into English if/when necessary.
Bring:
Water, a hat/sunscreen, and comfortable shoes for walking.
Cost:
480 MXN per person
Sign up 2 or more people in Tlayudona and pay a discounted rate of 450 MXN per person.
Maximum:
8 people, due to the nature of the walk, street noise, etc, so reserve your spots with anticipation.
Children ages 10 and up are welcome to participate, although this tour is geared toward adults.
Disclaimer: *This is not your typical "Oaxaca Overview" tour, as we´ll be skipping over some of the most renowned architectural sites in the city, choosing to really "see" some of the many architectural details that Oaxaca´s fascinating history has left us hidden in plain sight.
Would you like to arrange this experience as a women's travel opportunity? Contact us to schedule your personalized women's "Hidden Gems" walking tour for your small group.
Paseo arquitectónico de las joyas ocultas de Oaxaca
Este evento es el primero de nuestra serie "Paseo arquitectónico", dirigido por el arquitecto y especialista en restauración Flor Cantón. Descubriremos las huellas dejadas por la fascinante historia de Oaxaca mientras damos un paseo desde las hermosas calles empedradas de Jalatlaco hasta el centro de la ciudad. Este recorrido se adentra en una exploración de gemas a menudo pasadas por alto o aparentemente "ocultas" en los dos vecindarios.
¿Conoce la historia de cómo Jalatlaco evolucionó desde uno de los barrios menos deseables de Oaxaca hasta la zona favorecida que es hoy? ¿Sabes qué tienda de artesanía en el centro tiene una pintura emblemática hecha por los primeros sacerdotes dominicanos? ¿Qué tal una tienda común cerca del zócalo fue el hogar de la primera escuela para niñas de la ciudad? Nos sumergiremos en todo esto y mucho más en este paseo, y guardaremos las maravillas arquitectónicas más famosas (Santo Domingo, etc.) para otro día. *
Flor cantón
Flor es un talentoso arquitecto y especialista en restauración en la ciudad de Oaxaca, y tiene una inclinación por recordar detalles históricos recónditos fascinantes. Su pasión por la historia y la arquitectura es omnipresente, y nos guiará para ver el patrimonio cultural que se ha tejido y construido a lo largo de Oaxaca con nuevos ojos.
Nuestra ruta
Comenzaremos en Tlayudona, donde Flor nos presentará algunos antecedentes históricos / arquitectónicos pertinentes al recorrido. Luego nos dirigiremos hacia el centro, donde recorreremos algunas de las calles y edificios más populares del centro de Oaxaca, solo estaremos leyendo entre líneas. Identificaremos algunas de las casas originales de la época de la colonización de Oaxaca,
así como las primeras escuelas, cuarteles militares y hogares de las primeras congregaciones religiosas. Terminaremos en el "Pañuelito" del lado de Santo Domingo.
Logística
Periodo de tiempo:
2.5-3 horas (esto dependerá del tráfico, las preguntas formuladas, la dinámica del grupo y una serie de factores impredecibles)
Idioma:
Flor será la anfitriona de esta experiencia en español y se traducirá al inglés si es necesario.
Traer:
Agua, un sombrero / protector solar, y zapatos cómodos para caminar.
Costo:
480 MXN por persona
Regístrese para 2 o más personas en Tlayudona y pague una tarifa de descuento de 450 MXN por persona.
Máximo:
8 personas, debido a la naturaleza de la caminata, el ruido de la calle, etc., así que reserve sus lugares con anticipación.
Los niños mayores de 10 años son bienvenidos a participar, aunque este tour está dirigido a adultos.
Descargo de responsabilidad: * Este no es su tour típico de "Información general de Oaxaca", ya que nos saltearemos algunos de los sitios arquitectónicos más reconocidos de la ciudad, eligiendo realmente "ver" algunos de los muchos detalles arquitectónicos que la fascinante historia de Oaxaca Nos ha dejado escondidos a plena vista.
¿Te gustaría organizar esta experiencia como una oportunidad de viaje para mujeres? Póngase en contacto con nosotros para programar su recorrido a pie personalizado de "Gemas ocultas" para su pequeño grupo.
Age Group: Teen to Adult

Venue:
Tlayudona
Visit Website
Visit Venue Page
Address:
100 Hidalgo, Barrio Jalatlaco, Tlayudona Oaxaca de Juarez, Oaxaca 68080
Get Directions
Phone: 9512852664