Event Detail
This event has already taken place! Please make sure you are in the correct year.
×
Back to Events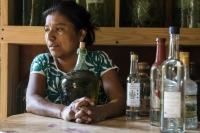 Food/Comida :: Mezcal also Learn/Aprender :: Presentation/Presentacion
Women in Mezcal/ Mujeres del Mezcal
6:00 PM
Los Lirios
Description:

"Women in Mezcal" Series
-Where: Los Lirios (#5 Noche Triste, Barrio Jalatlaco)
-When: Wednesday, July 11th at 6 p.m.
-What: A Socio-anthropological account of how women are contextualized within Oaxaca´s burgeoning mezcal industry, followed by a tasting.
-Cost:
400 MXN (With previous reservation at Tlayudona or at www.tlayudona.com.mx)
450 MXN (At the door)
Presentation is in English. Any of us who´ve been in Oaxaca for any length of time have surely tasted at least a few varieties of mezcal, but there are worlds within worlds hidden within the history and production of this local spirit.
One important (and often-overlooked dimension) of mezcal production is that of the women who have traditionally played imperative roles in the cultivation of agave, the distillation process, and the burgeoning mezcal industry.
This "Women in Mezcal" series unveils some of the historical and sociological/anthropological implications of women´s participation in mezcal, as well as the affects that participating in the industry has had on the lives of local women.
We´ll also delve into some general mezcal information particular to three regions of Oaxaca: Sola de Vega, Miahatlán, and the Mixteca.
First Encounter:
Our first experience with women in mezcal will provide us with a brief explanation of the various mezcal-producing regions of Oaxaca. We´ll learn some of the differentiating factors between regions—where certain types of agave can be found, the differences/properties between different agave varieties, etc. For the visual learners, we´ll locate the regions on a map of the state of Oaxaca to give us additional context.
We´ll watch a short video about agaves/magueys and mezcal, and then we´ll launch into a discussion about the strenuous demands that the rapidly-growing international market is putting on mezcal production, and how this affects the sustainability of the practice.
At this point the gender perspective comes clearly into play, and we´ll run through some brief descriptions of some of the projects that women have collectively created/organized to aid the efforts to make mezcal a more sustainable industry.
Just as there are many ways that women have shaped the mezcal industry, there is also a myriad of ways in which their participation in mezcal production has transformed their lives. Each of our encounters with "Women in Mezcal" will include their personal stories and experiences in the industry, which are at once diverse as well as connected by a common thread.
Since no mezcal discussion would be complete without a tasting, we´ll try two wild agave varieties as well as one which is cultivated.
Those participants who sign up to further their participation in our "Women in Mezcal" series will receive a discount on subsequent events.
Serie "Mujeres en Mezcal"
-Dónde: Los Lirios (# 5 Noche Triste, Barrio Jalatlaco)
-Cuando: miércoles, 11 de julio a las 6 p.m.
-Qué: Un relato socio-antropológico de cómo las mujeres se contextualizan dentro de la floreciente industria del mezcal de Oaxaca, seguida de una degustación.
-Costo:
400 MXN (con reserva previa en Tlayudona o en www.tlayudona.com.mx)
450 MXN (En la puerta)
Cualquiera de nosotros que hemos estado en Oaxaca durante mucho tiempo seguramente ha probado al menos algunas variedades de mezcal, pero hay mundos dentro de mundos escondidos dentro de la historia y la producción de este espíritu local.
Una dimensión importante (y con frecuencia pasada por alto) de la producción de mezcal es la de las mujeres que tradicionalmente han desempeñado papeles imperativos en el cultivo del agave, el proceso de destilación y la floreciente industria del mezcal.
Esta serie "Mujeres en el mezcal" revela algunas de las implicaciones históricas y sociológicas / antropológicas de la participación de las mujeres en el mezcal, así como los efectos que la participación en la industria ha tenido en la vida de las mujeres locales.
También profundizaremos en información general sobre el mezcal particular de tres regiones de Oaxaca: Sola de Vega, Miahatlán y Mixteca.
Primer encuentro:
Nuestra primera experiencia con mujeres en mezcal nos proporcionará una breve explicación de las diversas regiones productoras de mezcal de Oaxaca. Aprenderemos algunos de los factores diferenciadores entre regiones, donde se pueden encontrar ciertos tipos de agave, las diferencias / propiedades entre diferentes variedades de agave, etc. Para los estudiantes visuales, ubicaremos las regiones en un mapa del estado de Oaxaca para darnos contexto adicional.
Veremos un breve video sobre agaves / magueys y mezcal, y luego iniciaremos una discusión sobre las extenuantes demandas que el mercado internacional en rápido crecimiento está poniendo sobre la producción de mezcal, y cómo esto afecta la sostenibilidad de la práctica.
En este punto, la perspectiva de género entra claramente en juego, y repasaremos algunas breves descripciones de algunos de los proyectos que las mujeres han creado / organizado colectivamente para ayudar a los esfuerzos para hacer del mezcal una industria más sostenible.
Así como hay muchas formas en que las mujeres han moldeado la industria del mezcal, también hay una gran cantidad de maneras en que su participación en la producción de mezcal ha transformado sus vidas. Cada uno de nuestros encuentros con "Mujeres en el Mezcal" incluirá sus historias personales y experiencias en la industria, que a la vez son diversas y están conectadas por un hilo común.
Como ninguna discusión de mezcal estaría completa sin una degustación, probaremos dos variedades de agave silvestre, así como una cultivada.
Aquellos participantes que se inscriban para continuar su participación en nuestra serie "Mujeres en Mezcal" recibirán un descuento en eventos posteriores.
Age Group: All Ages

Address: #5 Noche Triste, Barrio Jalatlaco Oaxaca de Juarez, Oaxaca, Mexico 68080
Phone: (951) 285-2664