Event Detail
This event has already taken place! Please make sure you are in the correct year.
×
Back to Events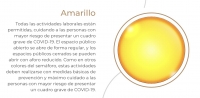 Groups/Grupos :: Health/Salud
COVID Yellow Stoplight / COVID semáforo amarillo
12:00 AM
oaxaca
Description:

YELLOW STOPLIGHT
In the Mexican federal stoplight system, under yellow, all work activities are permitted. Public space may open on a regular basis, while enclosed public spaces can open with reduced capacity. All activities should be carried out with basic prevention measures. People at higher risk of developing COVID-19 symptoms should continue to take extra precautions. Common sense precautions are:
- Wear a mask that covers both nose and mouth when you're likely to be near others, such as when taking public transportation.
- Maintain social distance of at least two meters. If you can't maintain that distance, wear a mask that covers both the nose and mouth.
- Wash hands frequently with soap for at least 20 seconds or use sanitizer with at least 60% alcohol
- Clean surfaces with disinfectant that have recently been used by others
- Breathing/coughing etiquette near others if not wearing a mask (cover nose and mouth with the internal angle of the elbow or with a disposable tissue)
- If you think you might have the virus, avoid vulnerable persons and stay in your house.

Todas las actividades laborales están permitidas, cuidando a las personas con mayor riesgo de presentar un cuadro grave de COVID-19. El espacio público abierto se abre de forma regular, y los espacios públicos cerrados se pueden abrir con aforo reducido. Como en otros colores del semáforo, estas actividades deben realizarse con medidas básicas de prevención y máximo cuidado a las personas con mayor riesgo de presentar un cuadro grave de COVID-19. Precauciones de sentido común:
-Lavado de manos durante al menos 20 segundos con agua y jabón, o pueden usar soluciones alcoholadas al 60%.
-Limpiar y desinfectar las superficies y objetos de uso común.
-Mantener una sana distancias entre personas al menos 2 metros, en caso de no poder mantener esta distancia usare cubreboca, po ejemplo en le transporte público.
-Etiqueta respiratoria (cubrir nariz y boca con al ángulo interno del codo o con un pañuelo desechable)
-En caso de presentar sintomas compatibles y no formar parte de un grupo vulnerable ni tener indicios de dificultad respiratoria, recuperarse en casa.
Age Group: All Ages

Address: oaxaca Oaxaca de Juarez, Oaxaca, Mexico
Phone: N/A