Event Detail
This event has already taken place! Please make sure you are in the correct year.
×
Back to Events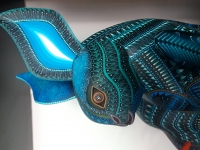 Art/Artesania :: Painting/Pintura also Learn/Aprender :: Workshop/Taller
Paint and Sip: Alebrijes / Pintar y beber: Alebrijes
4:30 PM
Tlayudona
Description:

Paint and Sip: Alebrijes / Pintar y beber: Alebrijes
Conducted in English and/or Spanish depending on the participants/Realizado en inglés y / o español según los participantes.
Come hang with us in Jalatlaco and paint a beautiful alebrije in our colorful Tlayudona space! We will continue with our tradition of serving coffee, cookies, and of course the quintessential mezcalito in Tlayudona while we learn about the history of alebrijes and create some art. Enjoy the peace of November before December brings a new rush of activity!
A little bit about alebrijes…
Oaxacan alebrijes are surreal dream-like wooden sculptures composed of elements of different animals and/or mythical creatures and painted with brilliant colors and patterns that require dedication, patience, and a keen attention to detail. As you've probably seen on the streets, in recent years the Oaxacan alebrije has evolved, and more organic, recognizable animal figures are carved and painted in a similar fashion.
Master Oaxacan painter Alejandro Velasco Sosa, member of a renowned family of alebrije painters, invites you to join him and Tlayudona to embark on the adventure of immersing yourself in colors and patterns as you learn to paint your own alebrije. Alex is a proud member of Tilcajete, a local village where Oaxacan alebrijes originate, and he will share his town´s history and relationship with this colorful craft. Alex will explain the historical meaning behind different color selections and the series of zapotec-originated designs used to decorate alebrijes. (Beginners, have no fear–the earliest alebrijes were painted with a series of lines and dots, and Alex is also ready to demonstrate a "how to" for the less artistically-inclined!)
This is an introductory course and no prior experience or skill level is required. It will be offered bilingually in Spanish with English translation. Check our Facebook page for albums of past alebrije-painting workshops or see our related blog-post here.
This course includes:
Your own 3-5 inch hand-carved alebrije (There will be various models to choose from.)*
Your choice of 6-8 acrylic colors
Brushes, palettes, aprons, and other necessary art supplies lent by Tlayudona
A pictoral and spoken overview of the history of alebrijes in Oaxaca and group instruction regarding painting techniques
One-on-one help with your detailing technique
A locally-harvested and roasted Oaxacan coffee made by our french press with optional refill (and/or a bottled water)
A complimentary mezcal (or two, if you´re so-inclined)
A locally-made cookie to munch on while you discover your inner-artist
*Alex will also have some more intricate wood carvings available to paint at an additional cost if desired, although there are upward of 25 varieties to choose from that are fully included in the price of the course.
Children are welcome to participate in this course, but the rate remains the same since their participation requires the same material cost.
Cost per person: 700 MXN (Mexican pesos)*
Sign up 2 or more people and pay 650 MXN (Mexican pesos) per person.
*Stop by Tlayudona at #100 Hidalgo in Jalatlaco from 9:30-1:30 and book your spot. (You can locate us on the same street as the Jalatlaco templo –NOT to be confused with Hidalgo street in the Centro, which Google Maps does not seem to have sorted out….)
This class has a maximum number of 10 participants and tends to fill up, so reserve your spots with anticipation.
Pintar y beber: Alebrijes / Pinta tu Propio Alebrije
¡Ven a pasar el rato con nosotros en Jalatlaco y pinta un hermoso alebrije en nuestro colorido espacio de Tlayudona! Continuaremos con nuestra tradición de servir café, galletas y, por supuesto, el mezcalito por excelencia en Tlayudona mientras aprendemos sobre la historia de los alebrijes y creamos algo de arte. ¡Disfrute de la paz de noviembre antes que diciembre traiga una nueva actividad!
Un poco de alebrijes ...
Los alebrijes oaxaqueños son esculturas de madera de ensueño surrealistas compuestas de elementos de diferentes animales y / o criaturas míticas y pintadas con colores y diseños brillantes que requieren dedicación, paciencia y una gran atención al detalle. Como probablemente haya visto en las calles, en los últimos años el alebrije oaxaqueño ha evolucionado, y las figuras de animales más orgánicas y reconocibles están talladas y pintadas de manera similar.
El maestro pintor oaxaqueño Alejandro Velasco Sosa, miembro de una reconocida familia de pintores alebrije, te invita a unirte a él y a Tlayudona para embarcarte en la aventura de sumergirte en colores y diseños mientras aprendes a pintar tu propio alebrije. Alex es un miembro orgulloso de Tilcajete, un pueblo local donde se originan los alebrijes oaxaqueños, y compartirá la historia y la relación de su ciudad con esta colorida artesanía. Alex explicará el significado histórico detrás de las diferentes selecciones de colores y la serie de diseños originados en zapotec utilizados para decorar alebrijes. (Los principiantes, no teman, los primeros alebrijes fueron pintados con una serie de líneas y puntos, y Alex también está listo para demostrar un "cómo" para los menos artísticamente inclinados).
Este es un curso introductorio y no se requiere experiencia previa o nivel de habilidad. Se ofrecerá bilingüe en español con traducción al inglés. Visite nuestra página de Facebook para ver los álbumes de los talleres de pintura alebrije anteriores o vea nuestra publicación relacionada con el blog aquí.
Este curso incluye:
Su propio alebrije tallado a mano de 3-5 pulgadas (habrá varios modelos para elegir) *
Tu elección de 6-8 colores acrílicos.
Pinceles, paletas, delantales y otros artículos de arte necesarios prestados por Tlayudona
Una descripción pictórica y hablada de la historia de los alebrijes en Oaxaca y la instrucción grupal sobre técnicas de pintura.
Ayuda personalizada con su técnica de detalle.
Un café oaxaqueño cosechado localmente y tostado hecho por nuestra prensa francesa con recarga opcional (y / o agua embotellada)
Un mezcal de cortesía (o dos, si estás tan inclinado)
Una galleta hecha localmente para saborear mientras descubres tu artista interior.
* Alex también tendrá algunas tallas de madera más complejas disponibles para pintar a un costo adicional si lo desea, aunque hay más de 25 variedades para elegir que están totalmente incluidas en el precio del curso.
Los niños son bienvenidos a participar en este curso, pero la tasa sigue siendo la misma, ya que su participación requiere el mismo costo material.
Costo por persona: 700 MXN (pesos mexicanos) *
Registre 2 o más personas y pague 650 MXN (pesos mexicanos) por persona.
* Pasa por Tlayudona en el # 100 Hidalgo en Jalatlaco de 9: 30-1: 30 y reserva tu lugar. (Puede ubicarnos en la misma calle que el templo de Jalatlaco, NO debe confundirse con la calle Hidalgo en el Centro, que Google Maps no parece haber resuelto ...)
Esta clase tiene un número máximo de 10 participantes y tiende a llenarse, así que reserve sus cupos con anticipación.
Age Group: All Ages

Venue:
Tlayudona
Visit Website
Visit Venue Page
Address:
100 Hidalgo, Barrio Jalatlaco Oaxaca de Juarez, Oaxaca 68080
Get Directions
Phone: 019512852664